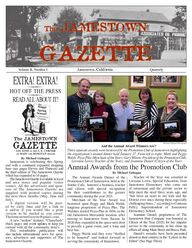 Return to flip book view
The Jamestown Gazette - Vol. II, No. I
Page 1
The Jamestown GazetteHappySpringSeason! Volume II, Number I Jamestown, California QuarterlyThe JAMESTOWN GAZETTE8By Michael Gahagan Jamestown is celebrating this Spring and with a continued expanded shopping base (see pages Eleven and Thirteen) and the third edition of The Jamestown Gazette which has expanded to 16 pages. The Jamestown Gazette is available in local and area stores and popular visitor venues. All the advertisers and spon-sors of The Jamestown Gazette are supplied with printed copies during the next three months (May, June and July). A digital version will be post-ed by early June and for a link to it and/or if you would like a print version to be mailed to you email: TheJamestownGazette@gmail.com. A new "section" features "Classyfieds" (back page) and event updates, to keep you current with all the community doin's. This redoubtable publication will also include informational news for spon-sors, advertisers and supporters of The Jamestown Gazette. 8READ ALL ABOUT IT! EXTRA! EXTRA!LOCATED AT THE S. E. CORNEROF MAIN AND DONOVAN streetsGAZETTEGAZETTEAnnual Awards from the Promotion Club TheThe JAMESTOWNJAMESTOWNHOT OFF THE PRESS The Annual Awards Dinner of the Promotion Club of Jamestown, held at the Smoke Cafe, honored a business, teacher and citizen with special recognition for their contributions to the greater community during the year 2021. Merchant of the Year Award was bestowed upon Peggy and Mark Walsh, longtime proprietors of Pizza Plus. The Walshes started Pizza Plus in 1994, in the old Jamestown Mercantile location. after moving to Jamestown from Tucson. In 2020 they expanded in the space next door to provide a game room, and a wine and beer bar. Peggy Walsh said they were "thrilled to be honored" and looked forward to serving the community of Jamestown.Michael Gahagan PhotographAnd the Annual Award Winners Are? Teacher of the Year was awarded to Lorraine Lewis, Special Education, from Jamestown Elementary who came out of retirement and the private sector to help meet the need three years ago, and "has been an asset to our kids and the District ever since during these especially challenging times.," according to Contessa Pelfry, Superintendent of Jamestown Elementary School. Jeannine Daniel, proprietress of The Jamestown Hair Company was honored as Citizen of the Year (2021) for her singular service to the community in her clean up efforts all along Main Street and Rocca Park. Daniel's remarks have been presented almost in their entirety in the "Letters to the Editor" (See Page Three)By Michael GahaganThree separate awards were bestowed by the Promotion Club of Jamestown highlighting the organization's annual dinner held January 27. From left to right: Mark and Peggy Walsh; Pizza Plus (Merchant of the Year); Gary Wilson; President of the Promotion Club; Lorraine Lewis (Teacher of the Year); and Jeannine Daniel (Citizen of the Year)
Page 2
Membership 2022Arthur Michael WineryBanks GlassBarendregt's GroceryBear Tent BreweryJaron Brandon, 5th District SupervisorC. C. TaqueriaChicken Ranch CasinoCongdon BuildingChristian Cowboy FellowshipDaisy Voigt, Realtor Gold Country OutttersHealing with JeniaHurst Ranch SupplyMathiesen Memorial Health CenterMike LawsonMorelia Mexican RestaurantPizza PlusRailtown 1897Realty World-WilsonSierra MotorsStogies Gold Country LoungeSuburban Propanee Bridal Vaulte Emporiume Jamestown Hair Companye Jamestown Hotele National Hotel & Restaurante Service Statione Smoke Cafee Wild RoseTuolumne County Visitors BureauYosemite HomesZ Antiques & CollectiblesMusin's 'n Cogitations from JimtownBy Michael Gahagan, EditorIn Case You Missed It, Almost a Repeat Column THE JAMESTOWN GAZETTEPage TwoVolume II, Number I Welcome to just the third issue of "The Jamestown Gazette." (Vol 2, No. I.) It has been almost 100 years since there was a regularly published newspaper, "The Mother Lode Magnet," locally serving the community of Jamestown. As a quarterly publication currently, we can't really dene ourselves as a newspaper just yet. Until we expand our pages and publish more frequently we can't truly be a "newspaper." But we can begin to reect a sense of community in The Jamestown Gazette. The rst sign of it, for me, has been the support we have received for the rst three issues from the businesses as reected by the sponsors and advertisements on these pages. The next step to is to enlist and solicit both volunteer and monetary help by way of in-kind donations and subscriptions. The Greetings everyone! This is Supervisor Jaron with a county update. But rst, it's the one-year anniversary of taking ofce and I want to thank you. This is hard work, and each day I seek to work hard to do my best to dissect, understand, create change, and share knowledge on the hundreds of issues we face. Despite the difculty of our challenges, I can see the progress being made—towards safer cleaner streets, thriving family friendly communities, strong partnerships, and letting you know what's happening. It's a privilege to serve you. Public safety is a top concern, and we concluded "collective bargaining" with a historic increase for Law Enforcement Deputies & Behavioral Health Clinicians —the largest one-year increase in our history. By closing vacancies, improving work culture, and offering more competitive pay, this builds our capacity to address drugs, mental health issues and crime. We also live with catastrophic wildre and rising insurance premiums, and these continue to be top priorities. There still is not a clear cause and effect relationship between steps that keep us safe and lowered premiums and to me, that is unsatisfactory leadership at the State level. We will continue advocating. However, on the fuel reduction front, there have been millions of dollars invested in new fuel breaks and thinning efforts along the public Stanislaus National Forest as part of the SERAL project, we are nearing nal stages of a vegetation management ordinance for private lands through the new Fire Safety Advisory Committee, and progress is also being made to establish evacuation maps so residents and visitors will be better informed in case of disaster. Our community dodged a bullet with the Washington Fire—we were lucky to (Please Turn to Page Fourteen) 5 TH DISTRICT STOPREPORTREPORTSupervisor Jaron Brandonf iftH di strictf iftH di strict from theplan would be to enlist a few community members interested in helping with the: planning, development of ideas, articles; reporting, columns; and the production and circulation of future issues. In addition to advertisers-sponsors, and a volunteer editorial corps, an expanding subscription base will be essential to the ultimate success in sustaining a viable community "newspaper." Since the print version of The Jamestown Gazette is free and we'd like to keep it that way, dollar amount donations could substitute for subscriptions. And, a membership in the Promotion Club of Jamestown includes a subscription to The Jamestown Gazette. Anyone, or if you know of anyone, interested in helping to create a community publication for Jamestown please email me at: TheJamestownGazette@gmail.com The JAMESTOWN GAZETTE 18125 Main Street Jamestown, California 95327707.337.4444 ~ 209.984.0888e.mail: TheJamestownGazette@gmail.comwww.jamestownpromotionclub.comwww.facebook.com/HistoricalJamestown/A Distinctive Quarterly"For the peopleand by the peopleof Jamestown"
Page 3
Page ThreeTHE JAMESTOWN GAZETTEVolume II, Number IEditor, The Jamestown Gazette Last update from our end is that I am moving on and my last day is March 18. I have appreciated your work in this endeavor and have been proud that MMHC has been a founding member of the Jamestown Gazette. Thank you for your quality work promoting our wonderful community! Blessings, Kim Dr. Kimberly Freeman, MD, CPE, FACEP, Paramedic COO, Mathiesen Memorial Health Clinic, Jamestown, CA. 95327Letters to the EditorLetters to the Editor Editor's Note: We welcome Letters to the Editor of any length and they can be sent to: TheJamestownGazette@gmail.com or mailed to: Letters to the Editor, 18125 Main St., Jamestown, CA 95327. Worth ItsWeight in Gold!FF RR EE EE Sign Up Now!photograp h Send Us Your Email Address to receive (no extra charge) by email the quarterly Jamestown Gazette, our monthly newsletter, periodic special notices about Jamestown area events and our sensational seasonal sales.Send email address to:TheJamestownGazette@gmail.comLike Us on Facebookwww.facebook.com/HistoricalJamestown/Website: www.jamestownpromotionclub.comThe Promotion Club and Editor, The Jamestown Gazette First of all I would like to thank The Promotion Club for inviting me here tonight. I don't know that I deserve this award but I thank you for the recognition of my efforts to keep the trash cans on Main Street looking presentable. Last month I actually attended my rst Promotion Club meeting. I was impressed how everybody was working as a team to problem solve and to try to get grants for funding projects that need to be considered for the future of Jamestown. I was especially moved to see that you are trying to help send the students of Jamestown Elementary to Washington. It was great to see our local supervisor Jaron Brandon present and sharing his knowledge on a county level to help problem solve and try to help get funding for Jamestown. I thank all of you for your efforts for what you do to help preserve and protect the history of Jamestown. So sincerely… I thank you! I have been a business owner here in Jamestown for going on 17 years. My late ex-husband Brian Daniel and I started Jamestown Hair Company along with Holli Watkins who has been my longtime friend and partner doing hair in the historical little building at 18266 Smoke Street. Smoke Street was originally known to be the red light district back in the day…So we are known as the best little hairhouse in Jamestown. In the mornings when I check trash cans a couple times a week I look around at all of the buildings like Rose's building at the corner of Donovan and Main Street… I love everything you got going on in there Rose! Jamestown Hotel, The National, The Emporium, The Carriage Inn and The Willow, they are all such beautiful buildings…all along Barendregts and across the street, our beautiful little park and gazebo. The Service Station is doing awesome and how about Pizza Plus being able to expand?! I'm super excited to see that progress is being made at what was last known as Pete's. I have really enjoyed watching The Willow being rebuilt. I got to personally meet Kim Carpenter, the owner of The Willow and now she is running Railtown Market trying her hardest to keep this side of town going through this pandemic. I was able to thank her for what she's done. A year ago I got involved with one pile at a time and that led me to the trash cans on Main Street. If I can do one thing in my own community that makes it a little bit better that helps give me peace. So yes…I like to make sure that there's no trash on Main Street. I want to be sure that it looks good for not just locals but for, of course, the tourists who come here to enjoy the history of Jamestown :-) Thank you again for a wonderful evening and this Citizen of the Year Award. Jeannine Daniel Jamestown Donate ee PromotionPromotion ClubClub ofof Jamestown Jamestownis accepting tax deductible donations of any amount to produce and printPlease make checks payable to: "The Promotion Club of Jamestown" Mail to: 18125 Main Street, Jamestown, CA 95327The Jamestown GazetteWith your donation indicate if you would like to have a print version of The Jamestown Gazette mailed to you. Otherwise you can pick up a copy at any one of the sponsors/advertisers in this issue. Gazette The Jamestown The photograph (above left) was taken from Main Street look The photograph (above left) was taken from Main Street look The photo-graph The photograph(above left) wast aken (above left) was taken from Main Street look The photograph (above left) was taken from Main Street look left) was taken from Main Street look The pho-to-graph The photograph (above left) wast taken The photograph (above was taken from Main Street look The photograph (above left) was taken from Main Street look The photo-graph The photograph(above left) wast p h ot o g ra p h Quality Work Promoting CommunityOne Trash Can at a Time on Main Street
Page 4
THE JAMESTOWN GAZETTEPage FourVolume II, Number IFuture of the Historic Methodist Church Unclear Jamestown, CA—One of the oldest buildings in Jamestown, certainly the oldest church, has been shuttered for nearly a year. According to Judith Marvin and Terry Brejla, authors of "Jamestown and West-ern Tuolumne County," the Greek Revival Church was built in 1861 and was remodeled in the Mission Revival style in 1916. The property was deeded to the Episcopal Methodist Church by James Stuart, the Justice of the Peace in Jamestown on June 8, 1853 for the sum of $25. The closure has not meant that the church has been neglected but rather maintained by Jean and Harvey Hickey, longtime neighbors of the church on Seco Street. The Hickeys, whose family roots to Jamestown date back to the 1870s have painted, re-done the porch, overseen the replacement of the roof among other ongoing improvements. However, the couple was not responsible for the repositioning of the church building which was altered some 45 degrees from west to south probably in 1912, according to Jean. Jean, who has served as a Treasurer of the church for the last ten years, pointed out that "until Covid the church had never been closed for services on a Sunday" that she could remember. For some time, Jean said, the church has had number of pastors, but they have been part time with the last one being Hae Jeong Yoon. The church is one of 72 small churches in the Central California District, ofce of the district superintendent in Modesto, of the California-Nevada Conference (Sacramento). According to Jean Hickey, members of an advisory task force formed to assess the merging of four Methodist churches in Tu-olumne County will be a meeting in Jamestown to discuss the recommendations in the final report. That meeting has been set for Saturday, May 28, from 10 to 11 p. m. at the Jamestown Church. A zoom will be open to accommo-date those not able to attend in person. Jean did say that one of the approved proposals included a recommendation that the Jamestown congregation merge with Sono-ra. If there is no merger the church would be closed and sold, she added. "Unofcially," Jean said, "the members in Jamestown do not want to merge with Sonora and we want to continue to worship in this historic church as the community of James-town has for over 160 years." Jean said that anyone wanting more infor-mation or to help "save our church" should email her at: JeanSHickey@gmail.com.By Michael GahaganSeco Street passes by the church after being moved. Photograph taken circa early 1930s.Current PositionMichael Gahagan PhotographMichael Gahagan PhotographHouse of Worship Overlooking JamestownIn a photo taken in the early 1900s The Methodist Church (center) just above the Emporium (two story brick building forefront), is shown in its original position. When it was rotated on its axis 45 degrees to a more southerly orientation is not exactly known. (Photograph Courtesy Gary Wilson)Nativity scene is one of three stained glass windows in the historic building. Interior DetailsEmpty Methodist Church May Close Permanently
Page 5
Roundabout to Provide Safety at Dangerous Hwy108 Intersection e Service Station Sonora (3.6. Miles) Historic Jamestown California Est. 1848Arthur Michael WinerySierra Motorse Bridal VaultArthur Michael WineryHeritage MarketplaceMountain Coee & BakeryNest & NookPizza Pluse Service Stationtiny birds, tiny beesZ Antiques & CollectiblesBarendregt's GroceryStogies Gold Country Loungee Smoke Cafee National Hotele EmporiumC. C. Taqueirae Jamestown HotelBear Tent BreweryMathiesen Wellness Centere Wild RoseRealty World-Gary WilsonJamestown Promotion ClubDaisy Voigt, Realty WorldChristian Cowboy ChurchMathiesen Memorial Health CenterBanks GlassChicken Ranch CasinoHurst Ranch Supply Historic JamestownR E G I S T RY HeritageMarketplaceNest & NookBarendregts Grocerye Emporium Realty World, Daisy Voigt,e Jamestown Promotion Club e Wild Rosee Jamestown HotelChicken Ranch Casino (2.5 Miles)Hurst Ranch Supply (1.4. Miles) Mathieson Memorial Health CenterPizza Pluse Bridal Vault Mathieson Wellness CenterRocca Park Railtown 1887Historic State ParkMountain Coee & BakeryC. C. TaquieraStogies Gold Country Loungee National Hotel Sierra Motors (.2 Miles)Banks Glass ( 0.9Miles)e Smoke Cafe Bear Tent Brewery108Tiny birds, Tiny beesSmoke St.Lemon Drop Lane Mali CenterJAMESTOWNJAMESTOWN ONON MAINMAIN18125 MAIN STREET, JAMESTOWN, CALIFORNIA 95327209.984.0888 TheJamestownGazette@gmail.com https://jamestownpromotionclub.com https://www.facebook.com/HistoricalJamestown/Z Antiques Suburban Propane (.2 Miles) Christian Cowboy Church
Page 6
C. C. Taqueiriae EMPORIUMe EMPORIUMAntiquesAntiquesExpressoExpressoIce CreamIce Cream18180 Main Street, Jamestown18180 Main Street, Jamestown(209) 984-0262 darwick1@yahoo.com(209) 984-0262 darwick1@yahoo.comSpecializing in Premium Cigars and Libations ursday, 4 pm-8 pm, Friday,12 pm-9 pm, Saturday,12 pm-9 pm , Sunday, 12 pm-5 pm18202 Main Street, Suite C, Jamestown, Ca. 95327 — 209.984.0584Cindy and Phil Herrero, Proprietors invite you to come on by during the hours of:Emails: phil@stogiesgoldcountry.com — cindy@stogiesgoldcountry.comwww.stogiesgoldcountry.com — www.facebook.com/StogiesGoldCountryLounge/www.yelp.com/biz/stogies-gold-country-lounge-jamestownStogies Gold Country Lounge online christian Cowboy Fellowshipchristian Cowboy Fellowship 10249 Donovan Street Jamestown, California 95327 Mail: P. O. Box 3515 Sonora, CA 95370Church ServicesSunday 10 a. m.Wednesday 6:30 p. mPastor Tom Modrell & Donna Modrell209.588.1446A Wide Selection of Southwest JewelryHuge Collection of Top Graded Comic BooksWe specialize in rare pieces of treasure from around the world with collections of jewelry, artwork, china pottery, and sports memorabilia 18207 Main Street Jamestown, California 95327 Friday, Saturday, Sunday:10:00 am - 5:00 pm(209) 782-5150 ~ zantiquesandcollectibles@yahoo.com ~ zantiquesandcollectibles.comJAMESTOWNJAMESTOWN ONON MAINMAIN18125 MAIN STREET, JAMESTOWN, CALIFORNIA 95327209.984.0888 TheJamestownGazette@gmail.com https://jamestownpromotionclub.com https://www.facebook.com/HistoricalJamestown/
Page 7
JAMESTOWNJAMESTOWN ONON MAINMAIN18125 MAIN STREET, JAMESTOWN, CALIFORNIA 95327209.984.0888 TheJamestownGazette@gmail.com https://jamestownpromotionclub.com https://www.facebook.com/HistoricalJamestown/17415 Highway 108Jamestown, CA 95327Just 1.4 miles southwest of Jamestown(209) 984-3016Monday – Saturday 8 am - 5:30 pmServing Our Community Since 1980e Depot, Wine Tasting, e Hurst Ranch Mercantile, Products (olive oil, chickens, wine), Weddings & Film, Events, Yoga in the Barn, Fall FestivalH U R S T R A N C HH U R S T R A N C Hwww.hurstranchjamestown.comwww.facebook.com/HurstRanchSupply/C.C.C.C.TaqueiraTaqueira 18181 Highway 108 — Jamestown, California18181 Highway 108 — Jamestown, California209.984.0000209.984.0000Moday-Saturday 7 am-8 pm Sunday 7 am-3 pmModay-Saturday 7 am-8 pm Sunday 7 am-3 pmwww.facebook.com/C-C-Taqueriawww.facebook.com/C-C-Taqueria209-984-4111 ~ sales@banksglass.comResidential and CommercialCelebrating Over 50 Years of ExcellenceCelebrating Over 50 Years of Excellence10002 Victoria Way, Jamestown, CA 95327 Mon-u: 7 am to 5 pm ~ Fri: 7 am to 4 pmWindows, Doors, Showers, Cut GlassCertied Installation, Maintenance & Repairs!!!!!!!"#"$"!%&'(!)*+,,*!-&.,/*01(2!34!$567879$:$#;:$9$8%0(<&=!>)?(<&=!#!&.!>6!@.)ABAC!D4E)!4!FAAG!HIACHIACJ&K,/.0L,:M&.,/*01(J&NO.&'P:J0.!11 1:K&J,Q00L:J0.R*S,/.0L,J&K,M&.,/*01(RSpring
Page 8
Page EightJAMESTOWNJAMESTOWN ONON MAINMAIN18125 MAIN STREET, JAMESTOWN, CALIFORNIA 95327209.984.0888 TheJamestownGazette@gmail.com https://jamestownpromotionclub.com https://www.facebook.com/HistoricalJamestown/OwnedE!ateFAMILYGROWNSLÀINTE MHÀITHA. CARROLL FAMILY WINERYTUOLUMNE COUNTYJAMESTOWN CaliforniaARTHURMICHAELWINES.COMIn the Sierra Foothills Appellation, tucked beneath Table Mountain, lies our Vineyard & Winery. Our wine is 100% estate grown at 1200-foot elevation, in fertile volcanic soil.Tasting Room18258 Main St.Jamestown CA. 95327209-984-9041Sat: 12-7 Sun: 12-418251 Main Street18251 Main Street(209)984-3700(209)984-3700Hours Monday —Thursday 11 am - 9 pm Friday — Saturday 1 1 am - 10 pm Closed Sunday Mark & Peggy WalshPromotion Club 2021 Annual Award Winnere Jamestown Promotion Club promoting Jamestown for over 70 years with the specic purpose of Public Improvements, Historical Preservation and Public Education.Become a Promotion Club Member!TheJamestownGazette@gmail.com jamestownpromotionclub.com www.facebook.com/HistoricalJamestown/mathiesenclinic.com mathiesen.clinic@crihb.orgOur Mission: To improve the health and happiness of our community as the premier place to give and receive care that embraces the balance of mind, body, and spirit.NOW OFFERING TELEHEALTH AND TELEPHONE VISITSNOW OFFERING TELEHEALTH AND TELEPHONE VISITSCALL US TO SCHEDULE YOURS: CALL US TO SCHEDULE YOURS: 209-984-4820209-984-482018144 Seco Street Jamestown, CA
Page 9
The Best Place To Dine�45+� Years of Excellence�800-894-3446 ~�OPEN DAILY�www.national-hotel.com�JAMESTOWNJAMESTOWN ONON MAINMAIN18125 MAIN STREET, JAMESTOWN, CALIFORNIA 95327209.984.0888 TheJamestownGazette@gmail.com https://jamestownpromotionclub.com https://www.facebook.com/HistoricalJamestown/The Jamestown Hair CompanyJeannine Daniel & Holli WatkinsCall for Appointments — 209.984.412218266 Smoke Street — Jamestown20% o f f A L L S E R V I C E S — P R O D U C T SThe Best Little Hairhouse in James-The Best Little Hairhouse in James-Promotion Club 2021 Citizen of the Year
Page 10
Contact: Gary WilsonAddress: 18125 Main StreetLocation: Jamestown, CaliforniaOce: 209-984-0888Mobile: 209-743-6364Wilson RealtyEmail: gary@mlode.com Website: www.realtyworld.com/gary-wilsonWWW.THEJAMESTOWNHOTEL.COMHistoric Main St. | Jamestown, CA | 209.984.3902RESTAURANTBAROUTDOOR PATIO DININGHISTORICALLY THEMED ROOMSBOOK YOUR STAYJAMESTOWNJAMESTOWN ONON MAINMAIN18125 MAIN STREET, JAMESTOWN, CALIFORNIA 95327 209.984.0888 TheJamestownGazette@gmail.com https://jamestownpromotionclub.com https://www.facebook.com/HistoricalJamestown/WWW.CHICKENRANCHCASINO.COMHWY 108 | Jamestown, CA | 209.984.3000GUESS WHAT?
Page 11
Page ElevenTHE JAMESTOWN GAZETTEVolume II, Number IJamestown Main St. Beginning to Fill OutMichael Gahagan PhotographThe First Annual VOW Gold Country Bridal Event, produced by Kelsey East, The Bridal Vault, James-town, and Susan Kelleher, Sweet Lilac Floral, Jamestown, was held recently at the Mount Brow Vine-yards featuring a number of wedding event vendors, brides and models. Top Row, Left to right: Linly Shadle, Mallory Wainwright, Rachael Stern, Melissa Short. Middle Row, Left to right: Katie Reed, Chloe Shay, Callie Inwood, Kelsey East (Owner of the Bridal Vault), Amanda Buxa, Isabella Brick, Brighton Hamari: Bottom Row, Left to right: Makayla Stone, Rebecca Murphy, Megan Richey and Ruby East.Wow, at the VOW Gold Country Bridal Event Photograph, Courtesy The Bridal Vault, Jamestown Jamestown, CA — The most recent business to open up on Main Street, The Rusty Buzzard, a toy store specializing in 3D laser puzzle toys, will actually provide more of an educational experience for the youngsters of Jamestown, according to Rose Gibbons, longtime proprietress of The Wild Rose, just down the street from the new location of the Rusty Buzzard. "Isetupthebusiness asa non-prot,so that I could better serve the youth of the community," Rose explained and she will offer classes and lessons on the premises after 3 p. m. Monday through Thursday. The store hours are 9 - 5 p. m. on Friday, Saturday and Sunday and 10 - 3 p. m., Mon-day through Thursday.(Continued on Page 13)Alice Stephens (left) and grandson Canyon, 6, learn about a children's and school workshop program being developed by Rose Gibbons, (right) owner of The Wild Rose who held a grand opening of the Rusty Buzzard the rst week in April. More About the Children's Art ProgramSupportYour Community Newspaper is accepting tax deductible donations of any amount to expand pages, produce and print, expand circulation of The Jamestown Gazette, a distinctive quarterly serving all of southern Tuolumne County With your donation indicate if you would like to have a print version of The Jamestown Gazette mailed to you. Otherwise you can pick up a copy at any one of the advertisers in this issue. Please make checks payable to "e Promotion Club of Jamestown" Mail to: 18125 Main Street, Jamestown, CA 95327 e Promot ion Club of Jamestowne Promot ion Club of Jamestown Yo u m a y a l s o d o n a t e o r b e i n v o i c e d t h r o u g h o u r P a y P a l a c c o u n t ( Ja m e s t o w n P r o m o t i o n C l u b @ g m a i l . c o m ) (e Promotion Club of Jamestown is a non-prot LLC and your membe rship and advertising spons orships are tax deductible.) Gazette The Jamestown The photograph (above left) was taken from Main Street look The photograph (above left) was taken from Main Street look The photograph (above left) was taken from Main Street look The photograph (above left) was taken from Main Street lookn Street look The photograph (above left) was taken from Main Street look The photograph (above left) was taken from Main Street look The photograph The photograph (above left) was taken from Main Street look The photograph (above left) was taken from T h e pho-to- Donations for The Rusty Buzzard's Kid Arts Program can be sent to: Sierra Non-ProtServices,320W. StocktonSt.,Sonora, CA 95370 with a notation that the donation is "for the Rusty Buzzard Art Program." The newly renovated space for The Rusty Buzzard was formerly occupied more recently by Jan's Scoop and for some timepriortothatbyCharlie'sBookStore.Thecellphonenumberis316.393.9296.
Page 12
THE JAMESTOWN GAZETTEPage TwelveVolume II, Number IRoundabout to Provide Safety at Dangerous Hwy108 Intersection Jamestown, CA — Much is going on, and more is on the horizon, near Chicken Ranch Rancheria in Jamestown. In the next two to three weeks construction will start on a roundabout on Highway 108 at Mackey Ranch Road. The project is fully funded by the Tribe and designed to increase safety in that area. Tribal Chair Lloyd Mathiesen says, "The intersection is one of the worst in the county, with a lot of blind turns, and combined with the speed, doesn't mix well. They reached out to Caltrans about potentially developing a new intersection and the end result was a roundabout. Chicken Ranch has received the nal needed permit from Caltrans so the construction can move forward. It will take roughly ve months to complete, and work should conclude in September. That includes getting all of the last pea gravel placed inside the roundabout and wrapping up the nal shoulder work. Mathiesen adds, "We're going to do everything we can to keep the trafc disruptions as minimal as possible (during construction). We are going to work on one side of the road at a time so that we can keep the trafc moving the entire time. That is the goal, and the plan, and Editor's Note: The article above has been reprinted with permission from MyMotherLode.comAround and Around in a Roundabout Mathiesen says, "We'll be opening the doors early in the rst quarter of 2024. And we're anxious and excited at the same time. We're going to be able to create another 250 to 300 jobs, but also still trying to nd 250 to 300 people to work." The new casino and resort will feature nine oors, three restaurants, 200 hotel rooms, and "some other surprises," as Mathiesen states. There are currently around 600 gaming machines at the existing casino, and the new resort will bump it up to around 1,000. When asked, Mathiesen said the recent nancial economic investment in the community totals nearly $450-million, when taking into account the resort, roundabout, water projects (such as a new wastewater treatment plant) and other ongoing efforts. Written by BJ Hansen we're hoping to be able to execute that." In the meantime, work on the Tribe's new resort project is also underway, visible from Highway 108, near the existing casino. Initially, they were planning to construct the project in the next 5-8 years, but then the COVID shutdown came, and actually freed up time for the architect and tribe to fast-track the effort and move it forward in only a year and a half.Customer Service Center ManagerOur Business isCustomer Satisfaction18535 5th Ave JAMESTOWN CA 9532711236 Wards Ferry Rd Big Oak Flat, CA 953051-800-PROPANE www.suburbanpropane.comJENNIFER McHOUL(p) 209.984.5285 (f) 209.984.0745jmchoul@suburbanpropane.com.. . . . Construction of Tuolumne County's rst roundabout, designed to increase safety in the area at the intersection of Highway 108 and Mackey Ranch Road is expected to be completed in September. Donate Promotion Promotion Club of Jamestown Club of Jamestownis accepting tax deductible donations o f a n y a m ou n t to pr o d uc e a n d pr i ntPlease make checks payable to "The Promotion Club of Jamestown"The Jamestown Gazette With your donation indicate if you would like to have a print edition of The Jamestown Gazette mailed to you or a digital version emailed to you. The photograph (aboveleftwas taken from Main Street look The Gazette The Jamestown ee Mail to: 18125 Main Street, Jamestown, CA 95327Casino Resort Slated for Opening in 2024
Page 13
18206 Main St, Jamestown, (209) 743-8241Accessories and Gifts for Babies, Toddlers, Kids and MomsThurs.-Sat. 11a.m.-4 p.m. and Sunday 11a.m.-3 p.m.info@tinybirdstinybees.com ~ www.tinybirdstinybees.comPage ThirteenTHE JAMESTOWN GAZETTEVolume II, Number IMobile: 209-768-9830 daisylynn1@att.net Serving all of Tuolumne County""DaisyDaisy"" Voigt VoigtSell or Buy all types of Real EstateCall MeCall Me ! ! Sonora, CA ~ REALTOR ~ "Top Producer"CA Lic. 01192831Bear Tent Brewing Company Revised open hours for The Bear Tent Taproom are: Thursday through Friday, 1-9 p.m.; Saturday, 1-9; and Sunday, 11-7 p.m. Food from the menu of The James-town Hotel next door is now being served along with new beers and rotation of dif-ferent ales. The Bear Tent Taproom, is located in the historic Marengo Building (1854),, 18145 Main St. in Jamestown.Jamestown Main St. Beginning to Fill Out(Continued from Page Eleven)Newly decorated northside wall of the Marliani Building built in 1915-1920 and constructed during the period of Jamestown's growth in the early 1900s. Kirk Carroll (left) and Bud Carroll founders of Arthur Michael Vineyards and Winery "hold" the newest signage in town logo.Looks Like It Has Been There 100 YearsZuniga Antiques & CollectiblesSIERRASIERRA 18475 5th Avenue Jamestown CA 95327www.sierramotors.netSales (209) 916-4332Parts (209) 984-0218One Low Price, Plain and Simple...Always!MOTORSMOTORS (Photograph Courtesy Gary Wilson)Michael Gahagan PhotographArthur Michael Winery Another three acres of vines are be-ing added now, which includes Cabernet Franc and Malbec. Arthur Michael Vineyards is a fam-ily owned boutique vineyard and winery, producing select wines from excellent high-quality Cabernet, Barbera, Primitivo, Zinfandel, Petite Sirah and Sangiovese grapes. A new building planned for the vine-yards, located in the Sierra foothills be-low Table Mountain, ve miles southwest of Jamestown, for wine processing and equipment is also moving forward. In addition, a new "wine garden" is being added to the back of the the new tast-ing room in downtown Jamestown expected to be completed in the summer (Conrm timing?Tap Room - 18145 Main St. Jamestown Phone: 209-782-5022 Thursday – Friday 2pm – 9pm Saturday 1pm – 9pm — Sunday 1pm – 7pmLocal hopsLocal brewers armagettigan@yahoo.comInstagram: #beartentbrewingcooffering traditional quality beers The winery is located at 14670 High-way 108, Jamestown. (Phone 510.304.7558) Visitors by appointment only. The tasting room, located at 18125 Main Street, is open Saturday, 12-7 p. m. and Sundays, 12-4 p. m. (Phone: 209.984.2091).Arthur Michael Winery (continued) The proprietors of Z Antiques and Collectibles, Brenda and Ralph Zuni-ga, rst came to Tuolumne County and Jamestown from Walnut Creek in 1998 and operated an antique store in Sonora before relocating to Jamestown in 2007. Their rst Jamestown location was at the southeast corner of Main and Seco Streets (now DD's Antiques and Coins)from 2007 to 2010 when the Zunigas moved the business again to Sonora. They returned once again in 2019 to Jamestown and their current location at 18207 Main Street, in the old Jamestown Trading Com-pany building. The single story wooden building, built in 1886, was a grocery story, then combined by both buildings on either side as the Stisson Hotel in 1898. By 1916 it was again a grocery store run by H. W. Walsh and Sons. Besides offering a variety of collect-ibles including artwork, vintage glass and sports memorabilia, "we have the largest collection of southwestern native Ameri-can jewelry in the Mother Lode," Ralph said. Days open and hours for Z Antiques and Collectibles are: Friday, Saturday, Sunday: 10 am - 5 pm. (Phone: 209.782.5150)
Page 14
Page FourteenTHE JAMESTOWN GAZETTEVolume II, Number IFifth District Report: Huge Changes Coming Down the Roadhave close resources, great teamwork, and no wind. But it was a wake up call that re isn't just out in the forest. We're in the cleanup process and our Ofce of Emergency Services is continuing to partner with Community Development on the aftermath. Most res begin as roadside starts, so please help us report littering, check your chains aren't dragging, and don't park on dry grass. There are huge changes coming in addressing dumping, littering, and homelessness. This is no small task and we're hitting it on every front—including getting knee deep. We will be cracking down on illegal dumping, revamping code compliance, and welcoming new leadership for Behavioral Health, Public Public Health, and Homelessness. With your help reporting, we have active code cases on encampments at Wigwam, Jamestown south entrance, as well as trashed property areas in town. With ongoing congestion and the tragic loss of life, we have several projects to improve vehicular and pedestrian safety. The Rawhide Bridge realignment is proceeding as planned for 2023. The Mackey Road Roundabout is ongoing to alleviate trafc from the dangerous turn at Chicken Ranch Road. An ambitious "Gold Rush Trail Project" master plan for bike lanes between Sonora, Jamestown and Columbia was approved for grant funds. Supervisor Campbell and I introduced a $500,000 non-prot micro-grant program and my special congratulations to those bringing home the bacon to Jamestown, and thanks to the Sonora Area Foundation for their generous contribution and assistance. The Promotion Club of Jamestown was awarded $15,000 for Jamestown Elementary Field repairs. Horses of Warriors and Chester & Push Horse Rescue each received $10,000. And, the ATCAA Food Bank received $50,000 and a $450,000 CDBG grant request. Our county is in a housing crisis, with rents and home prices soaring. We approved a beautiful 72-unit affordable housing complex near Adventist Health and are overhauling our planning/building codes to facilitate new housing. We need everyone to step up and join the ght for accessible, affordable housing for locals. If you are interested in building housing, selling land, need a connection, or just want to know where to speak up for it, please contact me. Lastly, we're in the nal process of developing the county strategic plan which is for 2022-2024. This longer term revamped approach is focusing on Fire, Public Safety, Community Health and Prosperity, Roads and Infrastructure, and Employee and Organizational Develop-ment. We will have detailed objectives and action items after our March 15 meeting to further esh out and nalize. Here's a few other quick updates: —We have been awarded a "Clean California" grant to x sidewalks, Rocca Park (See photograph above), the triangle entrance, and overall improve Jamestown as a destination. Thanks Public Works! —I am establishing a "Jamestown Area Advisory Commission" for local entities to regularly collaborate and advocate for our priorities. —Thank you Visit Tuolumne for your support of placemaking grants for the Promotion Club of Jamestown. There's always more, but out of room! You c a n a lway s r ea c h o ut t o m e a t: jbra ndon@co.tuolumne.ca.us or on Facebook.(Continued from Page Two)Rocca Park Slated for Range of ImprovementsPlans call for lighting, power, park furniture, wildlife-resistant trash cans and ADA enhancements.Michael Gahagan PhotographNOTICE ABOUT EVENTS: Many events are being postponed or canceled due to the Corona virus. Please check the event's main webpage (see below)or call the organizer directly ahead of time to check the status of the event. For more detailed information about the listed events and scheduling up dates:Tuolumne County—Regional Events ScheduleTuolumne County Visitors Bureau 800.446.1333 Events page: www.visittuolumne.com/eventswww.facebook.com/TuolumneCountyFather's Day Fly-In at Columbia Airport Jun. 18Mother Lode Fair - Sonora Begins for four days Jun. 30 Gold Rush Days, Columbia (1 - 4 pm) Jun.11 Columbia 4th of July Celebration July 44th of July Block Party, Jamestown July 4Summer Concerts in the Park, Sonora July 9 Big Band Street Dance, Columbia July 162nd Saturday Art Night (5 - 8 pm) May 14Columbia Diggins Tent Town 1852 10am-4pm) May 1910th Annual Rods to Rails Car Show, Jamestown May 21Car Show and Memorial Day BBQ, Groveland May 29Twain Harte Memorial Day Parade May 30Farms of Tuolumne Cou nty Farm & Ranch Tour Jun.11Gold Rush Days, Columbia (1 - 4 pm) Jun.11 Gateway to Sonora Pass and YosemiteGateway to Sonora Pass and Yosemite JAMESTOWNJAMESTOWN
Page 15
Special Correspondence of the Mail. JAMESTOWN, March 3, 1913 —George Jovich, accompanied by his an-cee Ella Drascovich, and Mrs. Rosa Tomasovich and Acim Tomasovich, mutual friends, arrived in the automobile of George Koster from Quartz Mountain Sunday morning about 9 o'clock at the ofce of Justice of the Peace L. E. Grant, who was all togged out in what he calls his clerical robes, waiting for the party, and upon their entrance into his chambers the smiling justice immediately proceeded to pronounce the marriage ceremony by which George Jovich and Ella Frascovich were declared man and wife. Mr. and Mrs. Tomasovich acted as attendants to the contracting parties and the only incident outside of what is unusual on such occasions noticed was that the placing of the wedding ring on the nger of the bride was done by the groom's best man. After the ceremony the party was whisked away in the automobile to Sonora. The newlyweds will occupy one of the cottages of Mrs. Lottie Farrington at Campo Seco, the old Eberhardt place.Page FifteenTHE JAMESTOWN GAZETTEVolume II, Number IBack in the DayBack in the DayThe Ellinwood Ranch Crew (Photograph Courtesy John Viglionzoni)From the les of The Mother Lode Magnet (1897-1935) Editor's Note: The Mother Lode Magnet was a regularly published weekly newspaper (1897 to 1935) in Jamestown by Messrs. Luddy and Sayre. This "clip" will be one of many we will print hopefully when we locate back issues. If you know of anyone who might be a source for copies of The Mother Lode Magnet please email us at: The JamestownGazette@gmail.com. In addition, we are seeking ideas and sources for contributions, anecdotes, snippets, snapshots from family albums and scrapbooks. to "Back in the Day" (see column above top left) Please contact Michael Gahagan at The Jamestown Gazette at the email above or call 707.337.4444.Cattle Ranching Families Over the Years Tuolumne County has long been known for its gold and mining industry followed by the logging and lumber industries. Yet there hasn't been as much written and archived about the cattle industry which has been around for generations in Tuolumne County. The authors of "Jamestown and Western Tuolumne County" wrote, "in the 1870's ranching which began as an adjunct to hay and grain for the horses and oxen had settled into an important agricultural base with the livestock operations on the grasslands in southwest Tuolumne County." "Early Day Tuolumne County Cattle-men" by the late Otis Rosasco contains depictions of the cattle brands of ranches with the familiar names of Dambacher, Gardella, Ghiorso, Goodman, Hardin, Kelley, Mackey, Ratto, Rocca, Russell, Sanguinetti, Shoettgen and Soulsby to name just a few located over the years in southwestern Tuolumne County.From the left: Norman Ellinwood, Bill Decounter, Harry Davis, Leon Casnava, John Casnava, Ernie Drury, Clay Waterhouse, Monk Casnava, Hap Marsh, Hap Marsh, Billy Johnson, Clar-ence Drewe, Bob Dias, Hank Johnson, Veranos Ellinwood, Grace Ellinwood and Belle Menzes,The Rosascos, a Five Generation Ranching Family (Photograph Courtesy of The Oakdale Leader)Jean and Otis (center), Doni and Nathan (right) and their three fth generation daughters (left), Lindsay, Shelby and Rachel. (2009 photograph) Oakdale Cowboy Museum 2009 Honorees.The Best Man Put the Ring on the Bride's Finger Editor's Note: We are seeking photo- graphs and ranching family histories to present in future issues celebrating one of the oldest and colorful generational industries in Tuolumne County. Please contact Michael Gahagan by email at: TheJamestownGazette @gmail.com. or call 707.337.4444. (cell phone).
Page 16
JAMESTOWNJAMESTOWN ONON MAINMAIN18125 MAIN STREET, JAMESTOWN, CALIFORNIA 95327209.984.0888 TheJamestownGazette@gmail.com https://jamestownpromotionclub.com https://www.facebook.com/HistoricalJamestown/Hundreds of custom and classic cars from all over California line Main Street. There is music all day in Rocca Park.Jamestown has many new shops and the best restaurants in Tuolumne County now opened up.For More Event Information:TheJamestownGazette@gmail.com https://www.facebook.com/HistoricalJamestown/ e Promotion Club e Promotion Club of Jamestownof JamestownRods to RailsRods to RailsSaturday, May 21, 2022 Tenth Tenth AnnualAnnualSponsorsChicken Ranch Casino and Elite Rods, Hank Arias, Tom & Patty Hoppe, Mario & Joyce Vanotti and REALTY WORLD-Wilson.Rae —Food HELP EXPAND our very own com-munity newspaper in pages and circu-lation. Donations of any amount can be made online by credit card through The Promotion Club of Jamestown's PayPal account at: TheJamestownGazette@gmail.com or by check payable to "The Jamestown Promotion Club" and mail to: Mallory Barendregt, Treasurer, The Promotion Club of Jamestown, 18125 Main Street, Jamestown, CA. 95327. A suggested donation for a Lifetime Subscription, $250. SEEKING BACK ISSUES, either for purchase or review and research, of the "Mother Lode Magnet" a weekly newspa-per that was published in Jamestown from 1897-1935 and the "Jamestown Enterprise" which was apparently published for just one year—1935. Contact Michael Gahagan, Editor, The Jamestown Gazette, by email at: TheJamestownGazette@gmail.com or cell phone, 707.337.4444. COMMUNITY SERVICE? Can you help with any and/or all phases of production of "The Jamestown Gazette," from tips, article ideas, research, interviewing, writing-editing, columns, photography, sales, distribution, social media networking? The Jamestown communi-ty wants you! The pay initially is the reward-ing satisfaction of being part of preserving Jamestown's past, present and future. Contact Michael Gahagan, Editor, The Jamestown Gazette, by email at: TheJamestownGazette@gmail.com or operators are standing by at this cell phone, 707.337.4444.ClassyfiedsFREEuntil the offer lasts!Send to:TheJamestownGazette@gmail.comProduced By